I registered for the inaugural IM Maine 70.3 last fall, and having never been to Maine, I was excited at the opportunity to explore a new state! I carpooled up to the race with another triathlete on Saturday, and the 4.5 hour drive flew by. We arrived in Old Orchard Beach around 2:30 pm, and headed straight to our hotel. I had booked a room at a small place close to the beach – The Atlantic Breeze Inn – but I hadn't done any research prior to booking it. I really wasn't sure where it was located in relation to the start of the race; I had just selected the cheapest place on Expedia since I figured I would barely be in the room. It ended up being perfect! The owner was super friendly, and the location was ideal. It was about a 3 min. walk to Ironman Village and a 10 min. walk to transition. Not having to worry about driving to the race in the morning was a huge plus! So after checking-in and dropping off our bikes in transition, we took advantage of the nice weather and walked around the pier and took a stroll on the beach.
We eventually stumbled upon a small restaurant on the main strip for dinner. I got my usual pre-race pasta meal (ravioli alfredo), and my friend, Phil, got the lobster mac and cheese. …  I'm not a huge seafood person, but that dish looked amazing! 
An hour or so later we both rolled out of the restaurant and headed back towards the room … we had an early wake-up!
RACE DAY!!
1.2 Mile Swim – 44:49
First off, my alarm went off at 4:30 am.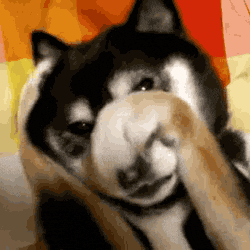 And then when I looked at my phone it was 52 degrees outside.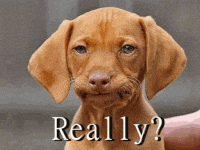 I was literally shivering in my bed. The LAST thing I wanted to do was wake up and swim in the ocean. This was a pic of the race start:
Just kidding. 😉
The race started at 6:20 am sharp, with 2 swimmers being released into the water every 2 seconds. They estimated it would take approximately 34 minutes for all athletes to enter the water. It was self-seed, so I just hopped into the line where I saw a little opening. Waiting for the gun to go off I was chatting with the athlete next to me, and he was AWESOME. He was over 70 – and was doing his very FIRST half-Ironman. I never cease to be inspired by all of the athletes at these events. Just incredible.
That said, this was also my FIRST open water ocean swim. EVER. Not gonna lie, that had me a little nervous. Anddd I've heard the waters up in Maine can be a little chilly. Whenever people told me this I shrugged and thought, "I'll have my wetsuit; it'll be fine." And at 60 degrees, the water was warmer than the air temp. Still, people had said that it may be a good idea to do a practice swim in the morning right before the start to get your body adjusted to the temperature. Not going to lie, physically getting into the freezing water for a few minutes to then stand outside in a line waiting to get back into said freezing water did not sound appealing to me. At all. So, like usual, I declined partaking in that opportunity and just figured I'd be fine in the water.
And then the gun went off and I actually entered the water.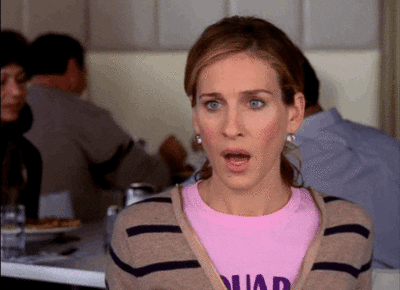 The first 5 – 10 minutes of the swim was HARD. I seriously contemplated quitting. When I first put my face in the water after I walked past the few waves that there were – I couldn't breath. I just gasped every time I tried to take a stroke. My teeth were chattering. I was SO cold. I tried a few more freestyle strokes, but it was the same thing. Every time I tried to breath to my side I just couldn't do it.  I then tried to swim freestyle holding my face above the water. NOPE. Too slow. I quickly began thinking of my options. Maybe breaststroke? No way. I knew I sucked at that stroke too and would likely not make the hour and 10 minute cut-off with that. I was panicking.
I kept looking at all the other swimmers. And they were doing it. Swimming. Freestyle. In the same water I was in. I was like, "Get your shit together, Erika. You can do this. They've adjusted. You'll adjust to the water, too." And so I kept trudging a long. It took a while, but I eventually got used to it. Once I did, it was actually a fairly nice swim. The water was super calm and the sun rising over the ocean was beautiful. I was run over and hit a few times by other swimmers, but overall I felt like I had a fair amount of space and the water was pretty clear. Clearer than some other murkier swims I've done. So clear that at one point I caught another swimmer out of the corner of my eye and swore it was a shark … so then of course I spent the next 20 min. contemplating this: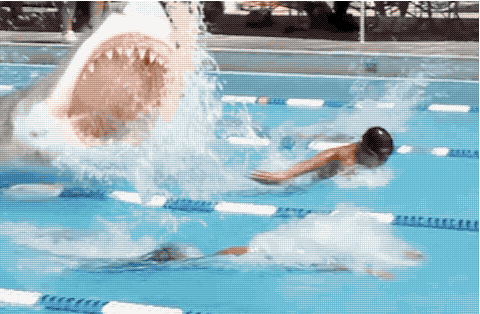 That probably made me swim faster. All in all, it was a good swim but I am aways happy to exit the water! Time: 44 minutes and 49 seconds.
Transition 1 – 11:57
This was my longest T-1 time to date. It didn't help matters that the run from the beach to transition was one of the longest ones I've encountered, but I also made a rookie mistake. … Since it was predicted to be similar weather to Antarctica in the morning, I opted to swim with my bathing suit underneath my wetsuit rather than my tri kit. I've never done this before, but figured the 2 extra minutes it would take to change would be worth it if I could start the bike in dry clothes. What I shoulddd have remembered is that changing tents are only at full Ironman events and are not at half Ironman events. So, I could expose myself to the hundreds of spectators and athletes – or grab all of my shit and go change in a porta potty. … I went with the porta potty option.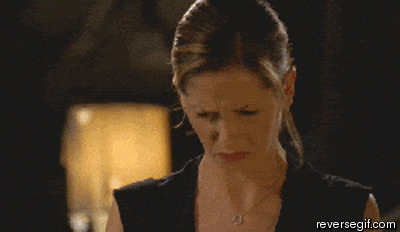 That definitely tacked on a few minutes … as did just trying to open my water bottle. My hands were so cold I couldn't grasp anything!
Any who, after I changed into my tri kit, I threw on a long sleeve shirt in hopes of staying somewhat warm at least during the early miles on the bike.
I was quite the fashionista.
56 Mile Bike – 3:30:29 (15.95 mph pace)
Similar to my swim training (I did one swim workout in 2017), my bike training this year has been subpar. And believe it or not, this was my first outdoor ride of 2017. I've definitely ridden, but all of my rides have been inside on my trainer – and I haven't ridden over 50 miles. So, minus the 3 or so bugs I ate, the entire 56 miles were quite enjoyable. I hadn't realized how much I missed riding outdoors. And it's always nice to explore a new area that way. Having never been to Maine, I didn't know what to expect … besides the fact that there were some hills based on the elevation chart they had posted:
With the cooler temps, I definitely drank less than I have in other races. I started the bike by sipping on a mix of water and coffee flavored hammer perputuem, which is about 540 calories. Halfway through, I started munching on a bag of Cheeze-Its I had in my front bento box. I know, I know, my nutrition is on-point. 😉 At this point, there were less hills and I was just cruising along – eating Cheeze-It after Cheeze-It. I think my pace definitely decreased at this point since the number of "ON YOUR LEFT!"'s I heard dramatically increased as people passed me. Then, this sweet old lady passed me, turned and said, "Don't worry, you'll probably pass me again in no time." I didn't know what she said at first so I just nodded, and said, "yeah." … And then it hit me what she said. … and what my response to her was.
Yeah.
YEAH!!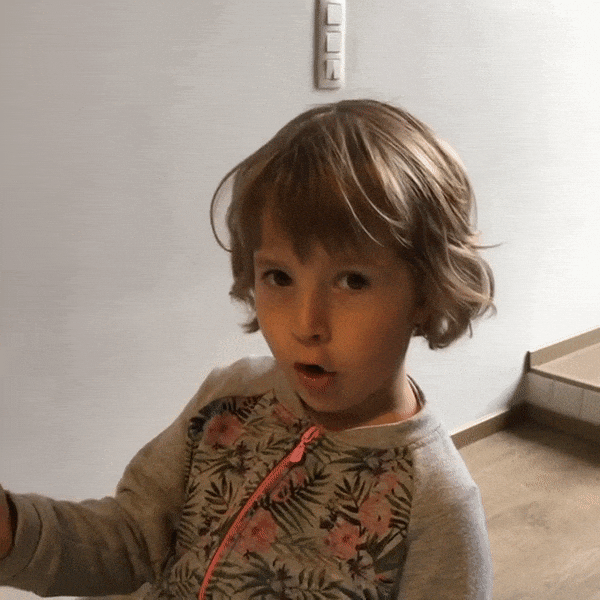 Sometimes I'm a moron and really don't mean to be!
After that the rest of the bike flew by as the second half was faster and flatter. And as the temperate creeped up I ditched my long sleeve shirt at an aid station. I felt like I was cruising and am always happy to safely finish a ride with no flats!
Transition 2 – 5:23
I quickly changed my shoes, threw on my bib number, a visor – and reapplied my lipstick.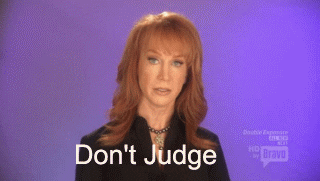 13.1 Mile Run – 2:15:49 (10:22 per mile pace)
Like the bike, I had no idea what the run entailed other than it was an out and back that was basically flat. So I was not impressed when the run started with us just running on the side of the road next to a string of cars stuck in traffic. After running along side disgruntled looking drivers who were dead stopped for 2 miles now, I was really hoping for something more scenic.
Thankfully, my wish came true. Around mile 2.5 we entered the Eastern trail, and it was absolutely GORGEOUS. It was like a whole different world. Running on the trail was nice; it's always nice being outside in nature away from the cars. There was an aid station about every mile and the volunteers were awesome, as usual. They were all so smiley and supportive and yelling words of encouragement. The sun was shining, but the trail offered a ton of shade.
And, even though I was running, I was a little surprised at the fact that I had an upset stomach. My race day concoction of a wheat bagel, 1/2 jar of Nutella, coffee flavored GU's, high calorie Perpetuem, Cheeze-Its and a grape Gatorade was letting me down. I was so bloated and had shooting pains. … And of course I was on one of the most congested runs I've ever been on. I knew what I needed to do to feel better – but we were basically single file on the trail, and there were people everywhere.  I tried my best to exhibit some self-control, until around mile 5.
I let one rip.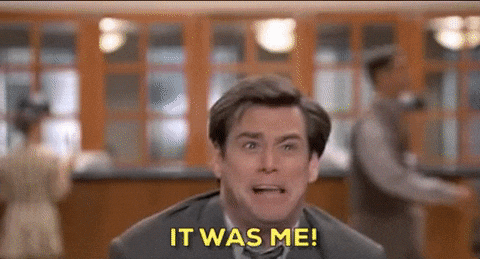 This is serious TMI, I know. But it really is common amongst runners and people doing long endurance events. Better to just laugh about it and move on!
And about half-way through I was feeling so much better! I felt like my speed was really picking up!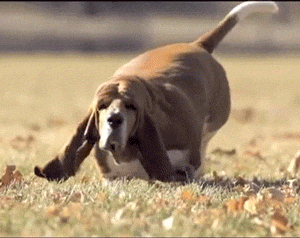 And I was back to all smiles:
Finish – 6:48:25
Always so happy to cross the finish line!!
Afterwards, I inhaled the post-race food: a ham and cheese sandwich and an ice cream bar, stretched for a few minutes and then we headed to transition to pick up our gear. We made the crawl back to our hotel before we packed it all up and headed home. (I was scheduled to work at 6:45 am on Monday, so we weren't able to stay for another night.) We hit a lot of traffic so it took about 6 hours on the return. It was an exhausting weekend, but I wouldn't trade weekends like this for the world!
And it always makes for a special Medal Monday:
Overall, I'd recommend this race to ANYONE. Very well organized, scenic, mostly flat, and the spectators and volunteers were the best!
Next up — IRONMAN Lake Placid 70.3 on September 10th! Can't wait!!